Vehicle Stats
Fleet: NO. 5
Name: WHY NOT
Reg: GXV 372
Year: 1944
A brief history of the Vehicle
Built in 1944 as a pool tanker, No.5 was restored by Mr E Twigger, who owned it in the mid 70s.
We bought it, without a body, from Bill McAlpine in Henley in 1983. An extensive restoration took place which included a new body, fitting lighting sets, painting and lining out. It was put into storage in 1991. The cab was rebuilt in the mid-nineties. When John Carter sadly died in 2000, Anna concentrated on the restoration of No.5 to prove to herself that she could carry on alone, so it has a special significance.
No.5 has done lots of different jobs on the fair since it first joined the family, including hauling the Steam Yachts. It now pulls one of the lighter loads.
During the Winter season the Carter team use their specialist skills to restore their rides and attractions back to their former glory. If you'd like support with a restoration project of your own, please get in touch.
Fairground owner Joby Carters is a leading specialist in the traditional skills of signwriting and fairground art. Find out more about weekend and intensive courses here.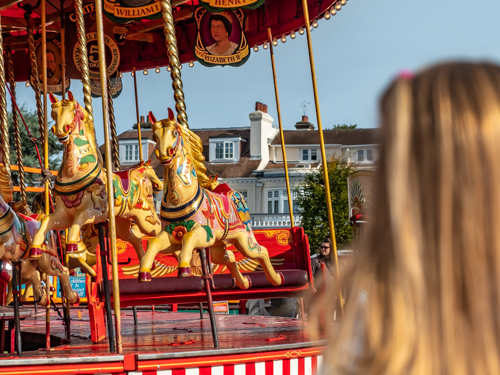 Excited to try out our vintage steam fair rides and attractions? You can find out when Carters Steam Fair is next visiting a location near to you here.