Vehicle Stats
Fleet: NO. 7
Name: MAY QUEEN
Reg: WD 4187
Year: 1932
A brief history of the Vehicle
John and Anna Carter had owned this little van before the Steam Fair was a twinkle in their eye. It had been used for show promoting, and naturally lended itself to use on the Fair when the time came.
Bought by John Carter in 1967 from Sir John Smith, the van had already spent a short time in showland with showman Terry Pratley of Banbury, who sold it to Smith in the early 1960s. Built in 1932, it is believed to be one of the last Ford vehicles to come out of the Old Trafford plant. It showed signs of an earlier use as a wrecker before it came into our hands.
In 1985 a Ford Model B engine was fitted, and in 1986 it was given a new body. In 1996 it was given a complete cab rebuild, which even included the doors, and an extensive mechanical overhaul and repaint. The rear body was altered to accommodate the Candy Floss barrow, and the whole van was converted to become the Candy Floss support vehicle, carrying sugar, sticks, bags etc.
No.7 is thought to be the oldest working vehicle within the fairground world, and possibly the country. It has spent a number of years towing the Gallopers organ on a weekly basis. It's currently in storage.
During the Winter season the Carter team use their specialist skills to restore their rides and attractions back to their former glory. If you'd like support with a restoration project of your own, please get in touch.
Fairground owner Joby Carters is a leading specialist in the traditional skills of signwriting and fairground art. Find out more about weekend and intensive courses here.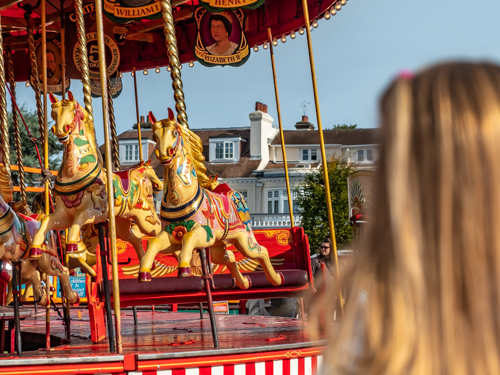 Excited to try out our vintage steam fair rides and attractions? You can find out when Carters Steam Fair is next visiting a location near to you here.