Little Southern Living Wagon
wagon Stats
Year: 1942
Maker: Southen & Co.
Length: 18ft
A brief history of the little southern
This little van was originally built by the Yorkshire firm Southern & Co in 1942 for the northern showlady Queenie Smith. It has a lightweight chassis and solid steel wheels. Originally purchased from an advert in the showman's paper The World's Fair, the van has been a workhorse over the years with us, and has pretty much consistently housed one or more members of the family since it was bought in 1979. It had been used as an office in a breakers yard in County Durham for a number of years and was in need of a bit of TLC.
After years of loyal service to the Carter family is has now been sold to the Hyman family and can still be seen on Carters Steam Fair today.
Fairground owner Joby Carters is a leading specialist in the traditional skills of signwriting and fairground art. Find out more about weekend and intensive courses here.
Join Joby on a one hour guided tour of the fair when it is in operation and learn about the restoration and different styles of art that can be seen across the rides. See a full list of locations and get in touch if you want to organise a tour for your group here.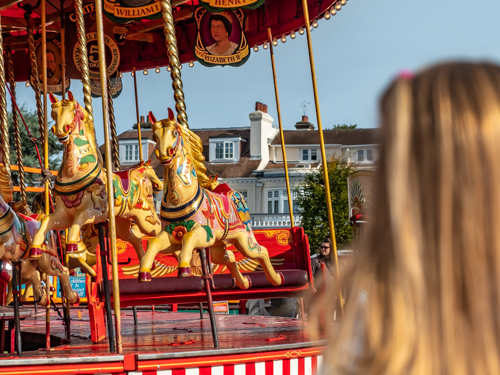 Excited to try out our vintage steam fair rides and attractions? You can find out when Carters Steam Fair is next visiting a location near to you here.