Raise the mighty hammer and bring it down as hard as you can to ring the bell!
We have three Strikers, or "test your strength" machines: the Mighty Striker, Mother Striker, and Son of Striker – so everyone has a chance of striking the bell.
The Mighty Striker, the largest, dates from around 1948 and was built for showman 'Chicken Joe' France. We bought it in 1975, and it was actually the first piece of fairground equipment the Carter family owned.
Joby Carter built the Mother Striker and Son of Striker so that everybody has a chance of ringing the bell – these days most people aren't so used to wielding hammers, so the Mighty Striker is a tougher challenge than it used to be.
The Strikers give a prize every time, so even if you don't manage to wow your friends and relations with your awesome strength, you can still go away with a smile on your face.
Who can play, and what does it cost?
This game is suitable for any age, and costs 5 tokens for 3 strikes – you win a prize every time.
At selected locations you can join Joby Carter for a short guided tour about the history of our rides and fairground art through the decades. Book tickets here.
Check out our learning section for fun activities to do with the kids before and after your visit.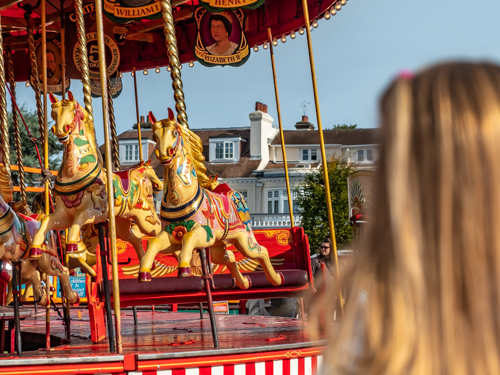 Excited to try out our vintage steam fair rides and attractions? Find out when Carters Steam fair is next visiting a location near you.