wagon Stats
Year: 1948
Maker: Vosper
Length: 30ft
A brief history of the vosper
The Vosper is widely regarded as the 'Rolls Royce of showman's wagons', and it's not hard to see why.
This grand 30 foot wagon is the height of 1940s deco elegance, with a wood veneer interior, four-tier art deco glass centre light and wall lamps, fitted furniture and even a grand variegated green and cream marble fireplace!
Vosper was a famous boat-building company in Portsmouth, which had had connections with showland since the 1830s when they built a juvenile roundabout.
In the 1940s they turned out a number of living wagons; it's believed that just after the war the boatbuilding industry was over-subscribed, and the fairground business was booming as people, fed up of years of dismal prospects during the war, went out to have fun and let go of their cares. It made good financial sense for Vosper to feed into that market while they had the manpower and customers.
This wagon was built as one of a pair for the Rose brothers of Chertsey, and belonged to Freddie Rose. The interior is of a late utility deco style, and has an air of Hollywood about it. The Vosper van was unusual in its design because it was built with a heavy double chassis to carry the weight of the half-ton marble open fireplace in the sitting room. The van as a whole weighs around nine tons! When it was new it cost somewhere in the region of £6000 – you could have bought a row of terraced houses for that!
John and Anna Carter bought this van in 1986 from Gerry Cottle, who had bought it from the Rose family. It is now Anna Carter's home, and has a particular place in her heart. It is the van she's had the longest, and it has the feel of a real family home.
Fairground owner Joby Carters is a leading specialist in the traditional skills of signwriting and fairground art. Find out more about weekend and intensive courses here.
Join Joby on a one hour guided tour of the fair when it is in operation and learn about the restoration and different styles of art that can be seen across the rides. See a full list of locations and get in touch if you want to organise a tour for your group here.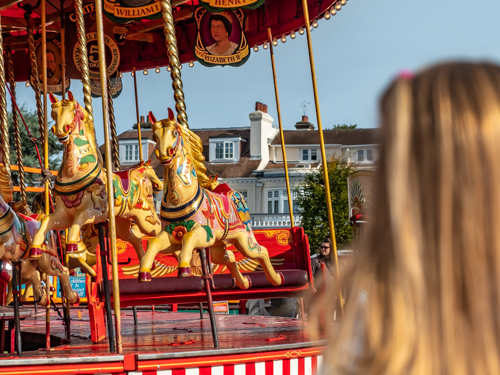 Excited to try out our vintage steam fair rides and attractions? You can find out when Carters Steam Fair is next visiting a location near to you here.