Vehicle Stats
Fleet: NO. 2
Name: Mr Plod
Reg: 721 BXM
Year: 1957
A brief history of the Vehicle
No.2, Mr Plod, was the first Scammell that we owned, and was bought to pull the Gallopers. Initially it joined No.1, which was a Bedford TK lorry that John and Anna Carter used for show promoting before the Steam Fair really began in ernest.
Built in 1957, but not registered until 1962, No.2 was pressed into service by Esso as a tanker lorry. In 1973 it passed on to Norman Hicks, who worked as a breaker. Len Turton converted it into a wrecker for him, and added a Garwood winch.
We bought it from Mr Hicks in 1976 and replaced the original Leyland 600 engine with a 6LW Gardner diesel from another Highwayman, which was replaced again a few years later with another 6LW, this time from a 1962 Foden.
During the Winter season the Carter team use their specialist skills to restore their rides and attractions back to their former glory. If you'd like support with a restoration project of your own, please get in touch.
Fairground owner Joby Carters is a leading specialist in the traditional skills of signwriting and fairground art. Find out more about weekend and intensive courses here.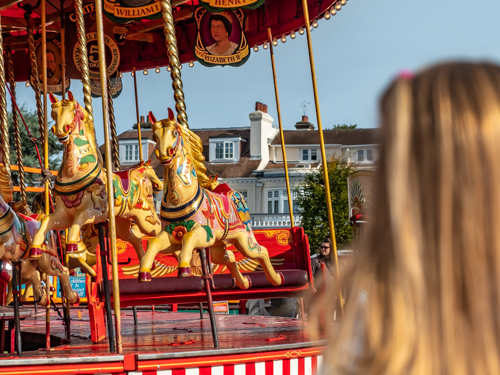 Excited to try out our vintage steam fair rides and attractions? You can find out when Carters Steam Fair is next visiting a location near to you here.