Learning with Carters Steam Fair
We are technically a family of artists and the fair is our canvas!
Traditional skills in a digital age
One of the features which makes Carters Steam Fair unique is the decoration of its engines, rides and transport with consistently superb signwriting, lining and traditional fairground decoration created by Joby Carter and his team. Joby is a leading expert on the traditional craft of sign writing and fairground art and hosts training courses at the Carters Yard throughout the year.
Signwriting, Fancy Lettering and Fairground Art
Joby Carter is keen to encourage the traditional craft and standards of signwriting to keep this important skill alive. He learned his signwriting skills from master craftsman Stan Wilkinson and when the fair is not on tour, he hosts signwriting and art workshops at the yard in While Waltham near Maidenhead. His courses are very popular and book up quickly, and he has had people travelling from all over Europe and further afield to take part.
You can join Joby for a guided fairground art and heritage tour at selected locations when the fair is on tour.
Joby Carter's course covers all the basics of traditional signwriting. From layout and design, to shading, lining and brushwork. By the end of the course you will have your own painted sign (and new-found skills) to take home with you at the end of the week.
This weekend offers a rare opportunity to learn about the specialist craft of fairground painting, including fancy lettering. There will be demonstrations of techniques and styles, and an opportunity to get hands-on and practice your fairground flourishes.
Wondering if you have what it takes to consider a career as a traditional signwriter before committing to further study and professional development? Or do you work in the creative industries and have an interest in letterform and typography yet miss being 'hands-on' with design? Our new one-day introductory course encourages you to get creative without a computer and software.
Find out more about our signwriting events
Learning & Activites: More than just a fair
A visit to the fair is full of fun for children of all ages. But Carters Steam Fair is much more than that. With rides dating from the 1890s to the 1960s and powered by steam, by electric and even by hand, there is plenty to learn too. We've created activities that can be done at home before or after your visit to the fair.
How many common fairground phrases and words do you know? Read through our list and see if you can find them all in our Wordsearch challenge.
Many of the horses on our Galloper ride are named after members of the Carter family. If you were inspired by what you saw at the fair you can design your own horse too.
We use vintage trucks to transport and power our fairground rides. What colours would you choose to paint your own truck and what name would you write on it?
Visiting and hiring the fair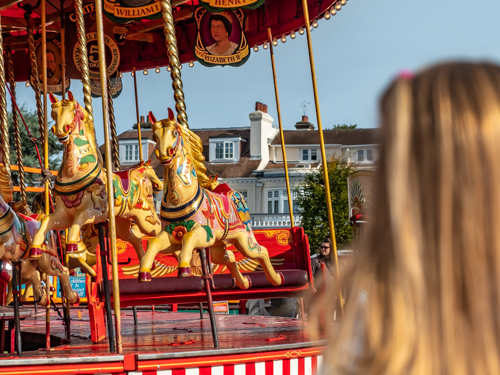 Planning a Visit?
If you have questions around visiting the fair then you might like to check out our FAQs section.
Our event times and dates can be found on the visit us page.
Want to feature the fair in a video or photoshoot?
If you'd like to talk to us about hiring the fair, or about a feature for film or television, you'll find our hire section has lots of information.