Our collection of rides and side stalls makes us the largest travelling vintage funfair in the world!
What is Carters Steam Fair?
Carters Steam Fair is a traditional English travelling funfair with rides dating from the 1890s to the 1960's. We are a unique piece of living history. Over the past 40 years we have been rescuing and restoring vintage fairground rides and attractions taking them on tour around London and the South East for everyone to enjoy.
One of the features which makes Carters Steam Fair unique is the decoration of its engines, rides and transport with consistently superb signwriting, lining and traditional fairground decoration created by Joby Carter and his team. Joby is a leading expert on the traditional craft of sign writing and fairground art and hosts training courses at the Carters Yard throughout the year.
A brief history of Carters Steam Fair
Carters Steam Fair began in 1977 when show promoters John and Anna Carter bought the Jubilee Steam Gallopers that still operates with us to this day.
They travelled the 1890's Steam Gallopers to steam rallies and fairs and as their passion for vintage fairgrounds grew, they added more rides to their collection.
They soon became known as a specialist in vintage fairground rides and restoration and the artistic talents of Anna Carter were put to good use restoring rides back to their former glory.
In 1999 they found a new yard to house the fair during the winter months, but they were shocked when John Carter was diagnosed with Hodgkins Lymphoma and sadly died the following year – a huge shock to his family.
John's enthusiasm and vision had been a guiding force for the fair, and his children had inherited a love for the fair and for what it stood for. After a very difficult few months, it was decided to get the fair back out on the road and continue what John had started.
The fair has since gone from strength to strength, with Joby, Anna, Seth and Rosie Carter and their families all personally involved, and with many friends and supporters working hard to keep it on the road.
Joby and his wife Georgina took over the managing of the fair from Anna a few years ago, and are heavily involved in the travelling, maintenance and restoration of the rides.
The collection of rides and side stalls makes Carters the largest travelling vintage funfair in the world. 
Carters Steam Fair is now the custodian of an incredible collection of beautiful vintage rides and attractions that would otherwise have been lost, and they are a highly skilled restoration team helping other people save items of British heritage.
"We are certain that John would be very proud of what we have achieved." Anna Carter.
Want to feature the fair, props or rides on screen or in a photoshoot? Find out more about hiring here.
We're passionate about fairground history and the traditional skills of signwriting and Joby Carter is available for interview. Get in touch with us.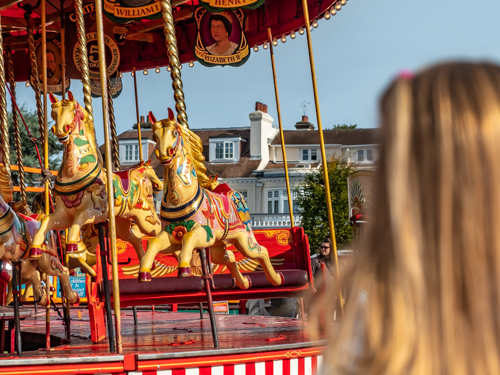 Excited to try out our vintage steam fair rides and attractions? Find your nearest fair here.