Hurtle around at 100 smiles an hour — press the pedal to skid your car for an extra boost!
About the Lightning Skid
Noisy and fast, and beautifully and intensely decorated, the Skid is a very popular ride dating from the 1960s.
Fun Fact: Is this a Waltzer? No!
Many people get the Skid confused with a waltzer because the shape of the cars is similar. Waltzers have hills, similar to our Ark, and the cars spin 360°.
Who can ride, and what does it cost?
The Skid is suitable for people over 1.1m tall accompanied but you must be over 1.3m to ride unaccompanied and costs 6 tokens per person to ride.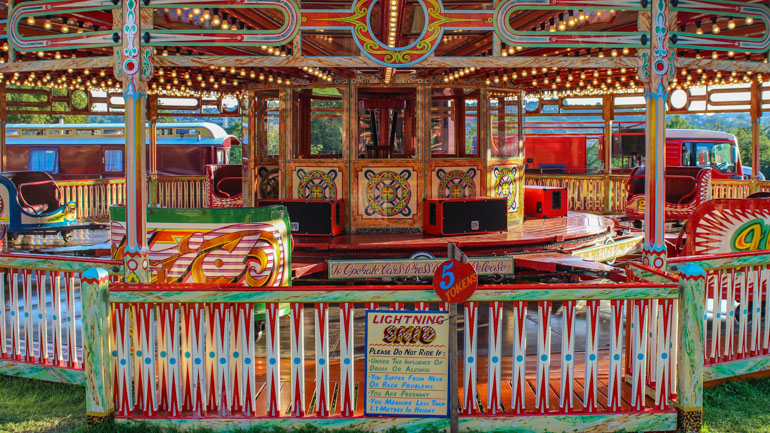 A brief history of the Lightning Skid
Built in 1965 by Hayes Fabrication (who also made our Giant Octopus and Austin Cars), the Skid was operated by showman Tom Smith, before being packed away in his yard for number of years.
The Skid was originally decorated by celebrated fairground painter Fred Fowle. After years of use (and a lot of love), the original paintwork was in a poor state, so we faithfully recreated it using the same techniques while we performed a total ground-up restoration of the ride in 2016-7.
The Skid is now back out with the fair and is hugely popular.
Video: Watch fairground owner Joby Carter talk about the Lightning Skid. 
If you'd like to talk to us about hiring the fair, or about a feature for film or television, you'll find our hire section has lots of information.
At selected locations you can join Joby Carter for a 1 hour guided tour talking about the history of our rides and fairground art through the decades. Book tickets here.
Excited to try out our vintage steam fair rides and attractions? Find out when Carters are visiting a location near you.