Vehicle Stats
Fleet: NO. 1
Name: KATHLEEN
Reg: HWV 982
Year: 1951
A brief history of the Vehicle
No. 1 was actually the second Scammell that we owned, having already got No. 2 (Mr Plod).
No.1 replaced a Bedford TK truck that had been used by John and Anna Carter for show promoting before the Steam Fair really began to develop.
Built new for United Dairies as an articulated unit, this lorry was converted to a showman's tractor by David Wynn, with an engine overhaul around 1960.
Following David's death, we bought it from his wife Kathleen in 1977, and we promised that it would keep its name.
No. 1 has had many bodies over the years, and has been used for many different jobs on the fair, but its primary role has been to pull living wagons.
During the Winter season the Carter team use their specialist skills to restore their rides and attractions back to their former glory. If you'd like support with a restoration project of your own, please get in touch.
Fairground owner Joby Carters is a leading specialist in the traditional skills of signwriting and fairground art. Find out more about weekend and intensive courses here.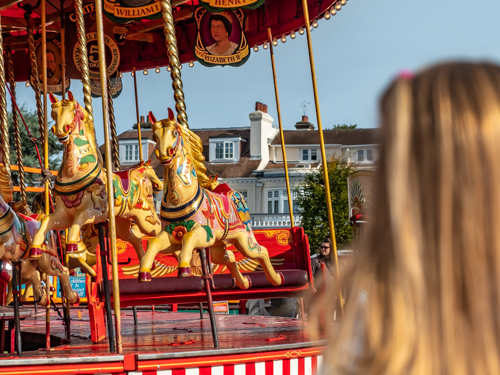 Excited to try out our vintage steam fair rides and attractions? You can find out when Carters Steam Fair is next visiting a location near to you here.