Vehicle Stats
Fleet: NO. 14
Name: THE MAIDONIAN
Reg: WUU 777
Year: 1960
A brief history of the Vehicle
No.14 was originally built for Shell Mex in 1960, before going into service at the haulage company Sanders. It was then laid up for twenty years, before we found it and bought it.
It was up near Manchester, and was brought down to Maidenhead and given a thorough overhaul in the late 1990s. As part of its adaptation for show use, a crane was fitted to the front to lift the heavy Steam Yacht A-frames and axles. It's powered by a Gardner 150 engine, and has a Gardner 6LW generator mounted on the back, with a 364 Lister 110v DC Dynamo.
It's particularly nice to drive, but unfortunately on the move to the fair in Margate in 2010 it experienced a sudden and catastrophic oil leak which resulted in the engine blowing up. It is going through a thorough mechanical going over and repaint.
During the Winter season the Carter team use their specialist skills to restore their rides and attractions back to their former glory. If you'd like support with a restoration project of your own, please get in touch.
Fairground owner Joby Carters is a leading specialist in the traditional skills of signwriting and fairground art. Find out more about weekend and intensive courses here.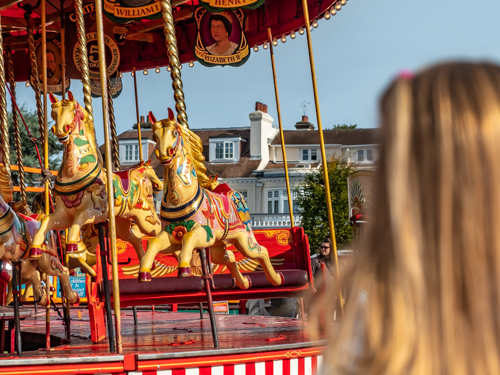 Excited to try out our vintage steam fair rides and attractions? You can find out when Carters Steam Fair is next visiting a location near to you here.