Vehicle Stats
Fleet: NO. 16
Name: UGLY
Reg: E197 UCY
Year: 1987
A brief history of the Vehicle
No.16 was previously owned by the Coupland family, and before that it belonged to the Cullens in Ireland, so it has a history of showland use.
Generally used to haul the Gallopers, No.16 also houses one of the main generators for powering equipment.
No.16 Ugly replaced a Scammell named Old Ugly, which is no longer with the family. Old Ugly was initially named Superior by John Carter, but when it went out in its first season in pink undercoat everyone said how ugly it looked, and the name stuck.
No.16 used to be No.3 in the fleet when it replaced a Scammell named Old Ugly however when the Scammell Showtrac was purchased it was renumbered from No.3 to No.16.
During the Winter season the Carter team use their specialist skills to restore their rides and attractions back to their former glory. If you'd like support with a restoration project of your own, please get in touch.
Fairground owner Joby Carters is a leading specialist in the traditional skills of signwriting and fairground art. Find out more about weekend and intensive courses here.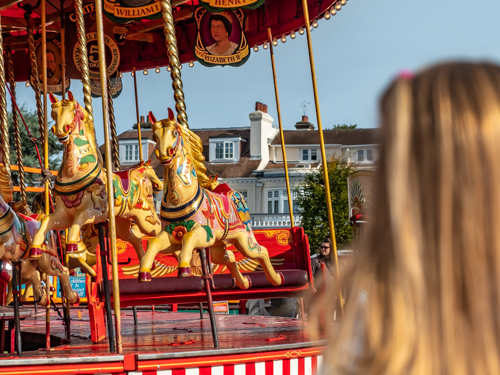 Excited to try out our vintage steam fair rides and attractions? You can find out when Carters Steam Fair is next visiting a location near to you here.