Vehicle Stats
Fleet: NO. 23
Name: WALTHAM FLYER
Reg: A11 XBA
Year: 1983
A brief history of the Vehicle
This ERF was originally purchased from Nick Baker in White Waltham, and was pressed into service when No.14 Maidonian's engine blew up on the motorway and it was forced into the Yard for an overhaul.
No.23 was modified to carry the Steam Yachts, and had a crane fitted to lift the Yacht axles (No.14 had a crane on the front for this job). It's known as the Waltham Flyer, and has an advantage over the Scammell No.14 in that it doesn't mark the ground as much when building up the Yachts (the Scammell has to move back and forth a lot to do the same job).
After purchasing a bigger crane lorry for the job this lorry now hauls the Marlow Donkey Train Ride.
During the Winter season the Carter team use their specialist skills to restore their rides and attractions back to their former glory. If you'd like support with a restoration project of your own, please get in touch.
Fairground owner Joby Carters is a leading specialist in the traditional skills of signwriting and fairground art. Find out more about weekend and intensive courses here.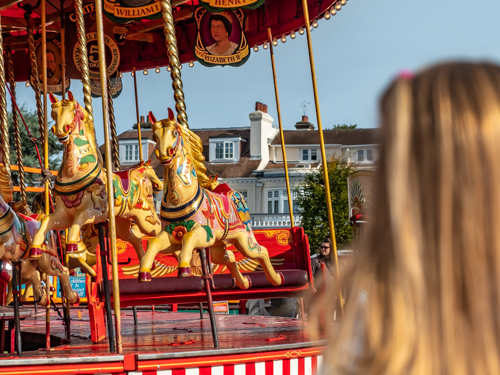 Excited to try out our vintage steam fair rides and attractions? You can find out when Carters Steam Fair is next visiting a location near to you here.