Vehicle Stats
Fleet: NO. 3
Name: PROGRESS
Reg: HTO 211
Year: 1946
A brief history of the Vehicle
Chassis number 6114 number six of eighteen built, this Scammell Showtrac was built in June 1946 for Hibble & Mellors, Nottingham.
Then operated by E.L. Morley's Super Plesure Fairs, Salford from 1964. The Showtrac was then preserved by Neil Padgett from 1973 to 1982 and then again by Tom Nicholson around 1997, it was then bought by, Neil & Freda Corner of Leyburn and was purchased in 2016 by us.
The Showtrac is a short-wheelbase 4×2 ballast tractor and was one of the few vehicles ever designed specifically for fairground use. It could be supplied with a rear body that included half-height roller shutter access doors, a winch, and a dynamo with the ballast block underneath.
Eighteen were built, to varying specifications and not all of them had the body fitted. There are many look-alike Scammell tractors, but genuine Showtracs had a special "Showtrac" badge on the radiator, and a full-width cab. Only seventeen of the eighteen built survives today and we are lucky enough to be custodians of the sixth one built.
During the Winter season the Carter team use their specialist skills to restore their rides and attractions back to their former glory. If you'd like support with a restoration project of your own, please get in touch.
Fairground owner Joby Carters is a leading specialist in the traditional skills of signwriting and fairground art. Find out more about weekend and intensive courses here.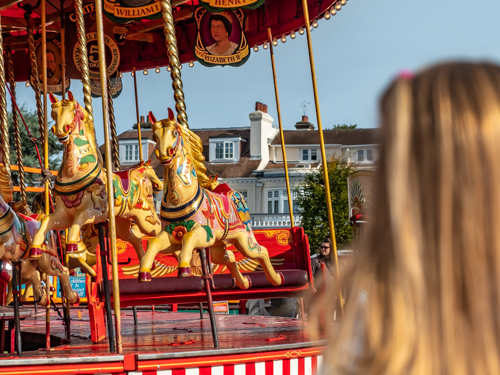 Excited to try out our vintage steam fair rides and attractions? You can find out when Carters Steam Fair is next visiting a location near to you here.