Vehicle Stats
Fleet: NO. 4
Name: WHY ME
Reg: GLD 661
Year: 1942
A brief history of the Vehicle
Built in WW2 as a 'pool tractor'/petrol tanker, No.4 was used by British Aerospace as a shunting tractor at Brough Airfield before we bought it in 1980.
In 1983/84 the cab was rebuilt and a total restoration was undertaken including new windscreen, headlamps, dash, sidelights and a repaint. Extensive work has been carried over the years.
It had a major overhaul in 1998 when it had a rear body fitted, with an air compressor added for use on the Jets ride.
During the Winter season the Carter team use their specialist skills to restore their rides and attractions back to their former glory. If you'd like support with a restoration project of your own, please get in touch.
Fairground owner Joby Carters is a leading specialist in the traditional skills of signwriting and fairground art. Find out more about weekend and intensive courses here.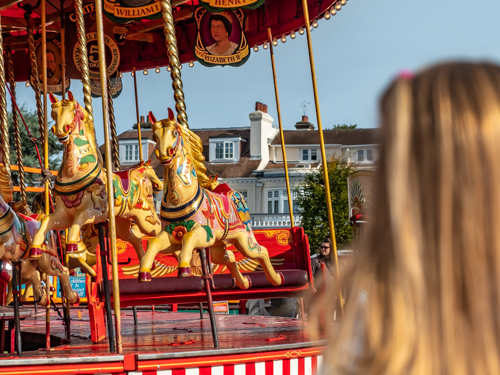 Excited to try out our vintage steam fair rides and attractions? You can find out when Carters Steam Fair is next visiting a location near to you here.