Vehicle Stats
Fleet: NO. 6
Name: WHY WORRY
Reg: 203 BGO
Year: 1961
A brief history of the Vehicle
Built in 1961, and used initially as a petrol tanker, this truck has spent a lot of time in showland use, and at one time it was owned by Anthony Harris. When we bought it in Rickmansworth in 1987 it was still in the Harris family livery.
No.6 was originally bought for spares, but it was decided that it was too good to break up, so instead it was saved and put through an extensive restoration. It's just as well, because No.6 turned out to be John Carter's favourite to drive.
This vehicle includes a 4LW 180 Amp Dynamo, which powers the lights on the Gallopers, and has a 150 Gardner engine. Over its life it has pulled the Gallopers and various wagons including Joby Carter's living wagon and the Swingboats.
During the Winter season the Carter team use their specialist skills to restore their rides and attractions back to their former glory. If you'd like support with a restoration project of your own, please get in touch.
Fairground owner Joby Carters is a leading specialist in the traditional skills of signwriting and fairground art. Find out more about weekend and intensive courses here.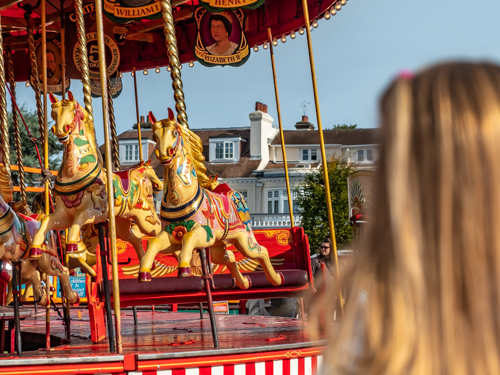 Excited to try out our vintage steam fair rides and attractions? You can find out when Carters Steam Fair is next visiting a location near to you here.