Vehicle Stats
Fleet: NO. 8
Name: THE KING
Reg: MHV 829L
Year: 1973
A brief history of the Vehicle
No.8 spent its formative years working as a gritter for Mid Glamorgan Council and, despite a low mileage, it had suffered a bit of corrosion from all the salt.
We bought it from Mr Ted Gowin in Gloucestershire in 1990, and soon removed the gritter body and converted it to a showman's lorry in 1991, with a shorter chassis, new diesel tank and winch. It was then stripped down and fully painted, signwritten and lined out.
Originally named The Wanderer, its name was changed to The King in 1992; Anna Carter painted a portrait of Elvis Presley on the headboard above the cab to commemorate the occasion. No.8 usually hauls the Dodgem plates, and is currently undergoing restoration.
During the Winter season the Carter team use their specialist skills to restore their rides and attractions back to their former glory. If you'd like support with a restoration project of your own, please get in touch.
Fairground owner Joby Carters is a leading specialist in the traditional skills of signwriting and fairground art. Find out more about weekend and intensive courses here.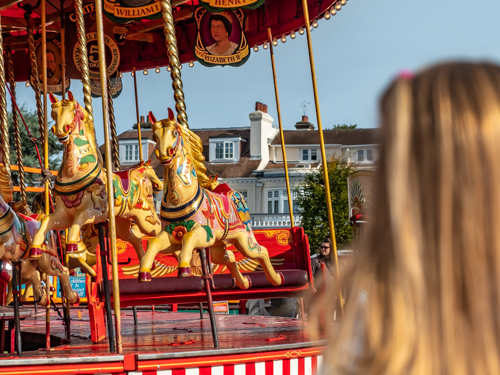 Excited to try out our vintage steam fair rides and attractions? You can find out when Carters Steam Fair is next visiting a location near to you here.