wagon Stats
Year: 1942
Maker: Brayshaw
Length: 26ft
A brief history of the brayshaw
It is believed that this beautiful 26' showman's wagon was originally built for John Shaw and his wife Pricilla. Joby was told it was built in 1942 but suspects it was built pre-war as it is thought that Brayshaw were not making wagons of this caliber in 1942.
Brayshaw were famous for their living wagons; they began as blacksmiths and wheelwrights in Yeadon near Leeds in the late 19th century, and by 1889 were making carriages for Romany families and showfolk. They made everything except the wheels and tyres in-house; by 1930 the average cost of a new Brayshaw van was between £300-£400, although the more elaborate examples were closer to £1000.
Over time Brayshaw began to refuse to work for anyone but showmen, and by the end of their output they were constructing true palaces on wheels: one of the last Brayshaw vans to come out of the works featured a shower, cocktail cabinet, refrigerator, stainless steel sink and a kitchen boiler, with a price tag of between £3000-£4000.
This particular wagon is very original on the inside, although the outside had been modernised by skirting it in around the chassis. We bought it from the estate of Mrs Shaw in the early 80s, and Joby Carter began a total and thorough restoration in 1993, and made every effort to get it as historically accurate and authentic as he could.
This van is believed to have been the first Brayshaw to have been fitted with a metal roof (rather than canvas) from new. Rather than stripping the brown paint off, Joby chose to re-clad it in aluminium. When he removed the skirting from the sides it revealed the belly box doors, and he was amazed to find the original scrollwork surviving on them. He was able to paint the boxes around the scrolls and keep them in the finished restoration.
The Brayshaw now provides a cosy home for painter Aaron Stephens.
Fairground owner Joby Carters is a leading specialist in the traditional skills of signwriting and fairground art. Find out more about weekend and intensive courses here.
Join Joby on a one hour guided tour of the fair when it is in operation and learn about the restoration and different styles of art that can be seen across the rides. See a full list of locations and get in touch if you want to organise a tour for your group here.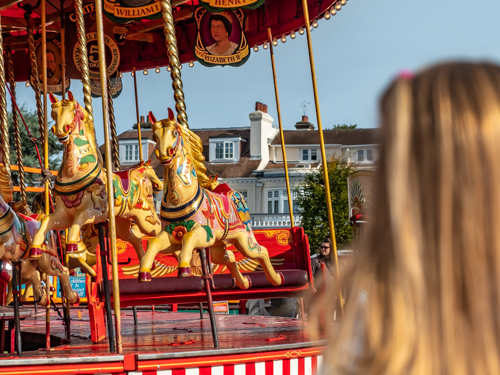 Excited to try out our vintage steam fair rides and attractions? You can find out when Carters Steam Fair is next visiting a location near to you here.