Go quackers and swipe yourself a prize with the ever-popular Hook a Duck game.
Hook a Duck is a really popular sidestall at Carters. The ducks parade around the centre of the hoopla, and you must try and pluck one from the flock with your long hook.
This colourful hoopla is arguably one of the finest surviving examples of master-decorator Fred Fowle's work on a sidestall. John Carter bought it many years ago from a showman, and it has since been lovingly restored and parts repainted to be as close to the original as possible, as unfortunately a lot of fairground rides of the 50s and 60s were made of plywood which delaminates over time and damages the paintwork.
Who can play, and what does it cost?
Hook a Duck is suitable for all ages, and costs 5 tokens to play. You keep playing until you win a prize, so you get a prize every time.
At selected locations you can join Joby Carter for a short guided tour about the history of our rides and fairground art through the decades. Book tickets here.
Check out our learning section for fun activities to do with the kids before and after your visit.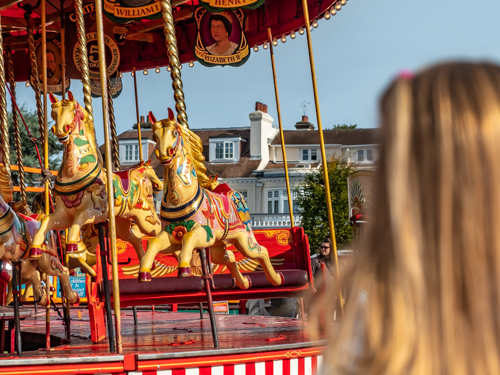 Excited to try out our vintage steam fair rides and attractions? Find out when Carters Steam fair is next visiting a location near you.