Hurst of Retford Living Wagon
wagon Stats
Year: 1955
Maker: Hurst of Retford
Length: 28ft
A brief history of the hurst of retford
This handsome van is believed to have been built in 1955 by Hurst of Retford for the Proctor family, although its history is sketchy. Hurst were a long-standing joinery business that came into working for showmen during the war when Joe Ling asked them to carry out some repairs on his Moonrocket ride following a fire. They soon began to build living wagons, and turned out a number over 20 feet in length. One was described in an advert as having three bedrooms, a lounge and kitchen!
Joby Carter bought this wagon from Gerry Cottle, who had been planning to use it as an office for his circus at his yard. He did a large amount of work to restore it to its former glory. When he came to strip it back to aluminium (it was painted beige) he discovered that the original scroll pattern had been etched by the sun into the aluminium of the belly boxes, so he was able to use this pattern to paint it how it would have originally been.
Fairground owner Joby Carters is a leading specialist in the traditional skills of signwriting and fairground art. Find out more about weekend and intensive courses here.
Join Joby on a one hour guided tour of the fair when it is in operation and learn about the restoration and different styles of art that can be seen across the rides. See a full list of locations and get in touch if you want to organise a tour for your group here.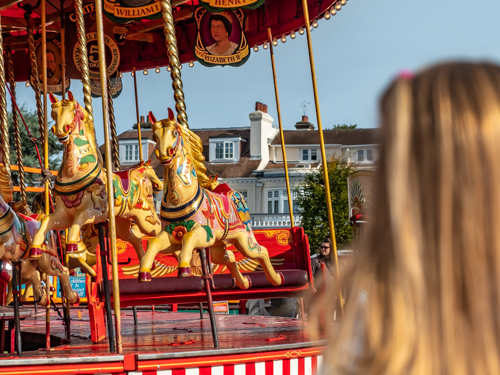 Excited to try out our vintage steam fair rides and attractions? You can find out when Carters Steam Fair is next visiting a location near to you here.