Vehicle Stats
Fleet: NO. 13
Name: KING LOUIS
Reg: VLG 5J
Year: 1971
A brief history of the Vehicle
No.13 was originally used commercially as a cattle truck. Joby Carter bought it as his first lorry in 1994 (he was just a bit too young to drive it on the road) from David Norton, who'd used it commercially. When it came to Carters it was a chassis cab, with no body, so a new body was made from it using one from a Foden lorry.
"Greedy boards" were added along the top, for extra showmanship, and belly boxes were added under the body to be inkeeping as a traditional working showman's lorry. The body was built to carry the Swingboats and Strikers, which it did for years, hence its name (King Louis – the king of the swingers).
It has now been adapted and it carries the Mini Octopus and hauls the Chair-o-Plane. In the winter of 2015/2016 it was given a thorough overhaul and repaint.
During the Winter season the Carter team use their specialist skills to restore their rides and attractions back to their former glory. If you'd like support with a restoration project of your own, please get in touch.
Fairground owner Joby Carters is a leading specialist in the traditional skills of signwriting and fairground art. Find out more about weekend and intensive courses here.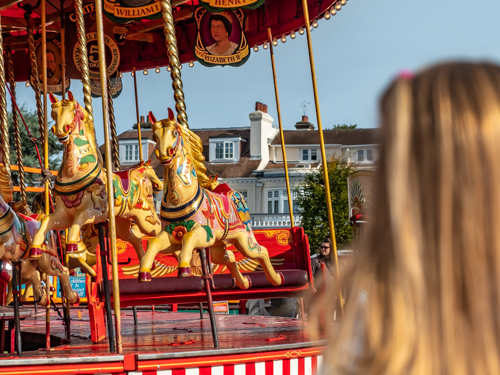 Excited to try out our vintage steam fair rides and attractions? You can find out when Carters Steam Fair is next visiting a location near to you here.