Royal Windsor Living Wagon
wagon Stats
Year: 1954
Maker: Southen & Co.
Length: 42ft
A brief history of the royal windsor
This Royal Windsor showman's living wagon was built in 1954 by Southern for Ronnie and Kay Smart, who travelled it and lived in it for many years with Billy Smart's Circus.
Ronnie's father Billy was one of the 20th century's greatest showmen, very well known even today for the famous Smart's Circus, but he also travelled a fairground in his early days.
The Royal Windsor's modern lines were unlike anything on the road up to that point, and must have seemed almost space-age in the parks of post-war Britain.
Smart's Circus was at its peak in the mid 1950s when Ronnie had this, the first Royal Windsor built; the second was built for his brother David; and the third was made for the guv'nor, their dad Billy Smart. However, out of deference, Billy's was always known as "Number 1", even though this one had the number one on the door.
These three wagons all had mollycroft roofs (the row of narrow windows along the roof line that brings in lots of natural light). In the 1960s the Smart family began to outgrow it, so Southern extended it from 37 to 42 feet, incorporating unusual sweeping lines and twin port holes at the back.
All three of the Smarts' wagons are still in existence; in fact, Billy Smart's wagon and David Smart's are now also in the possession of Carters Steam Fair and are awaiting restoration.
Joby and Georgina Carter bought this wagon in 2012 as their family was fast out-growing their previous one, and so began a mammoth restoration project. The wagon had been standing outdoors for a number of years, and there was rotten wood, damp, and decaying aluminium that needed attention.
A wall inside had been opened up and replaced years later, meaning that the whole structure had expanded outwards by 3 inches, so it was pulled together with a ratchet strap and the original wall replaced. Joby and his team recreated and restored the original elements of the wagon as faithfully as possible, both externally and internally.
The wagon is constructed of wood built on a steel chassis, and clad in aluminium. The interior, like most showman's wagons, was high quality wood, and has been restored and replicated as authentically as possible using hand-picked maple and mahogany veneer. The chassis has been strengthened, axles and brakes have been renewed and replaced, the interior was fitted out with hand-made built-in furniture, 508 feet of aluminium strip was cleaned and polished, windows removed and renovated, and the bodywork was finished with seven coats of glossy coach paint. The attention to detail even stretches to Art Deco light fittings and bevelled cut mirrors, and there isn't a cross-head screw in sight.
Nevertheless, the Royal Windsor has to be a practical home for a family of five, so it now includes more modern conveniences, such as a flushing toilet, shower, central heating (in addition to the traditional stove) and a dishwasher to help smooth out family life on the road.
Joby and Georgina count themselves very lucky to be the new custodians of this classic piece of showman history, and to have had the friendship and support of such a great team of people working together on it to get it to the beautiful condition you see today. And to top it all, Ronnie and Kay Smart have visited them at home in the Royal Windsor and are really pleased to see their old wagon as a family home once again.
Fairground owner Joby Carters is a leading specialist in the traditional skills of signwriting and fairground art. Find out more about weekend and intensive courses here.
Join Joby on a one hour guided tour of the fair when it is in operation and learn about the restoration and different styles of art that can be seen across the rides. See a full list of locations and get in touch if you want to organise a tour for your group here.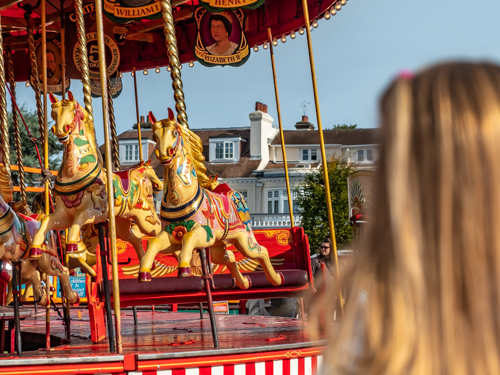 Excited to try out our vintage steam fair rides and attractions? You can find out when Carters Steam Fair is next visiting a location near to you here.