wagon Stats
Year: 1950s
Maker: Proctor
Length: 30ft
A brief history of the proctors
JC Proctor was a showman himself, and he ran a large works in Leicestershire covering all aspects of wagon building from 1949-53, as well as boat building and other engineering work. His adverts appealed to the showman's dream: "Just a little something that the others haven't got." They were keen on mass production, and invented clever ways of turning a large number of quality wagons out fairly cheaply.
This particular wagon was built in 1950 by the firm for showman Stanley Thurston, who had looked after it well. Apart from a custom-made kitchen built in the 1980s, the van is largely original inside, and is very spacious – a good thing when you're housing a growing family!
It also has an unusual feature: a window on the blind side. Most living wagons have a windowless side to give them privacy on the fairground, and so there is a wall for fitted cupboards and the fireplace.
This wagon has been part of the fair for several years now, initially owed by John and Anna Carter it was sold to John and Shelley Todd and now is home to Dave and Rosie Healy youngest daughter of John and Anna Carter.
Also, on the fair is its sister wagon, we believe it was built for the David Thurston relation of Stanley Thurston. It has featured in Midsomer Murders and is owned by Kevin, Georgina's father.
Fairground owner Joby Carters is a leading specialist in the traditional skills of signwriting and fairground art. Find out more about weekend and intensive courses here.
Join Joby on a one hour guided tour of the fair when it is in operation and learn about the restoration and different styles of art that can be seen across the rides. See a full list of locations and get in touch if you want to organise a tour for your group here.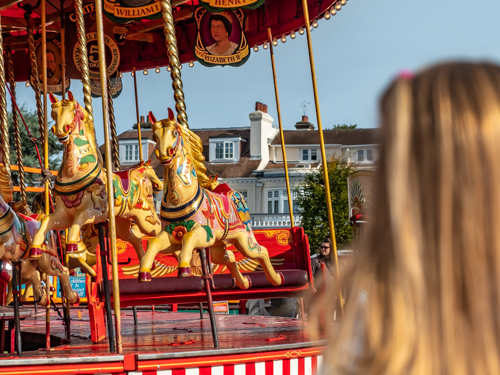 Excited to try out our vintage steam fair rides and attractions? You can find out when Carters Steam Fair is next visiting a location near to you here.