The grand palace of entertainment
A stunning authentic fairground venue for your party or event!
The Grand Palace of Entertainment is the only travelling theatre of its kind left in the world. Designed, built and decorated by Joby Carter and his team to the specifications of 19th century travelling theatres, it provides a unique and highly adaptable vintage setting for special occasions, from gigs, comedy and theatre, to themed parties, weddings and promotional events.
The Grand Palace of Entertainment can be adapted inside to suit your event. There is a removable stage at the back of the venue, and a small stage outside at the front (as pictured) for promotion, as well as an optional bar that can be set up inside.
hire
The Grand Palace of Entertainment is available to hire. If you are interested in hiring this unique venue then please visit our hire page and fill out the contact form at the bottom.
At selected locations you can join Joby Carter for a short guided tour about the history of our rides and fairground art through the decades. Book tickets here.
Check out our learning section for fun activities to do with the kids before and after your visit.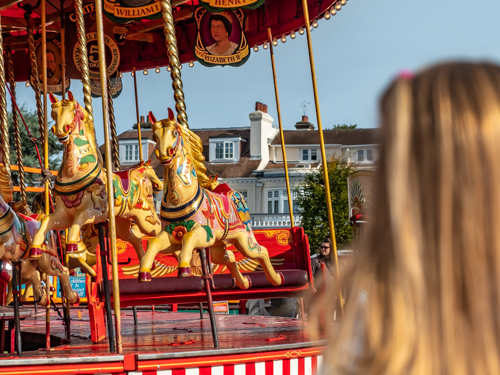 Excited to try out our vintage steam fair rides and attractions? Find out when Carters Steam fair is next visiting a location near you.